Access
Access Map
Approximate Time to the Metropolitan Area
JR
[Shinjuku - Shiojiri]
2hrs 30mins by Limited Express Azusa
[Osaka - Shiojiri]
3hrs 30mins by Limited Express Shinano and Shinkansen
[Nagoya - Shiojiri]
1hr 55mins by Limited Express Shinano
[Nagano - Shiojiri]
1hr by Limited Express Shinano
Auto
[Tokyo - Shiojiri]
2hrs 30mins via Chuo Expressway, Route 20, and 19
[Nagoya - Shiojiri]
2hrs via Chuo Expressway, Route 20, and 19
Air
[Sapporo - Matsumoto]
90min. - 15min. by car from Matsumoto Airport
[Fukuoka - Matsumoto]
85min. - 15min. by car from Matsumoto Airport
Area Guide
The Magnificient Nature of Shinshu is Giving Birth to Superior Dentists.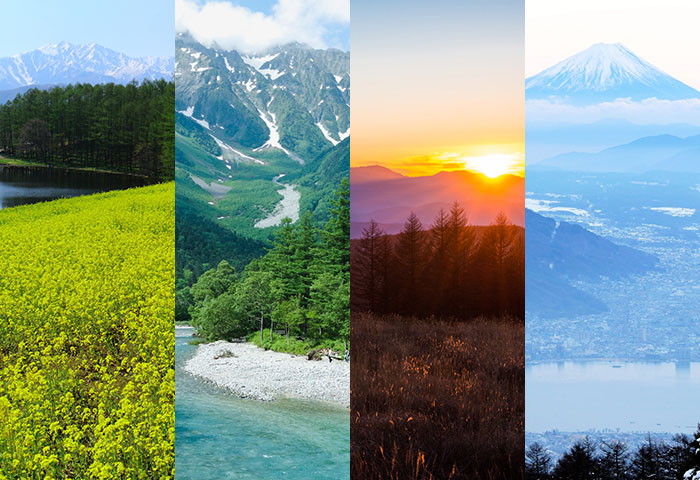 The campus of Matsumoto Dental University is nestled amidst the magnificent nature of Shinshu (Nagano Prefecture). The students can relax on campus or have a pleasant time walking through the surrounding area.
Nearby are such nationally famous places of scenic beauty as Kamikochi, Mt. Norikura, the Utsukushigahara plateau, Lake Aoki and Lake Suwa. Many students enjoy excursions or club and seminar campings at these places during vacations, on weekends, and on holidays. The rich nature of Shinshu sets an ideal stage for the young students aspiring to be dentists.
Three Local Characteristics Surrounding the Campus
Great Mountains of Shinshu

Surrounded by rolling hills, Matsumoto City lies in the center of a basin called "Matsumoto-daira". To the west are the majestic peaks of the Japan Alps, which have been attracted many alpinists in Japan. To the east of this basin is the plateau of Utsukushigahara which commands a panoramic view of the North Alps, the Central Alps, the South Alps, the mountains of Chichibu and Mt.Fuji. This is one of the most popular tourist attractions in Shinshu.
Many Symbols of Old Japan

 In and around Matsumoto are many famous temples, historic relics and cultural assets. There are Tsukama Shrine, which is a national treasure, Fukashi Shrine and Yohashira Shrine, and Hofuku Temple, Hoko Temple, Shorin Temple, Kotaku Temple, Jorin Temple and Gofuku Temple. Known from olden times as a center of education, art and culture, Matsumoto also has many precious buildings dating from the Meiji Era, when Japan opened its doors to external trade and thus the influx of Western culture. Famous among them is the former Kaichi School, which is designated as an important cultural property for its uniqueness in the architectural history of Japan.
 Matsumoto Castle is famous as one of very few castles that still retain its original form. The Folk History Museum has a large collection of historical data. There are still many other relics that retain the old-time Shinshu culture.
Remains of Times of Yore

 Matsumoto Dental University is located in Shiojiri (next to the city of Matsumoto). The region is a nationally famous for producing center of grapes. Gobara, where our university now stands, once prospered as one of the post towns in the Edo period (1603-1867) where travelers rested after a day's exhaustive travel on foot. Even today, we can see many houses of "Honmune" structure with "Tsumairi" gable complete with a beautiful front garden, which offers us with a glimpse of olden times.
 Also, the Hiraide Museum, which exhibits the articles unearthed from the Hiraide site known as one of the three major Jomon sites in Japan, is only five-minute car ride from Shiojiri Station. The exhibits range from earthenware and stone tools of the Jomon period (8000B.C.-3000B.C.) to the "green-glazed jars" from the Heian period (794-1192) and folk material from the Shiojiri area.
---